About Us
Introducing...
Our regular clients will know that year on year our business gets busier and we're sure many of you will have already met Pete and Phill (Kerenís parents) who help us a couple of days a week.
Pete and Phill Osgood (Kerenís parents)
They will be looking after our motley crew whilst we take our holidayís and will also be helping us in the cattery this year. Weíre sure youíll help us to welcome them if you see them on site!
Pete and Phill are 'retiring' to Cambridgeshire from Devon and will be providing us with support for what we envisage to be an even busier year to come.
Pete can more often than not be found in the garden - he is happiest with a trowel or secateurs, and will be looking after the cattery garden to ensure your cat's view is kept up to standard and inviting for the 'feathered entertainment'. He will also be helping Trevor with ongoing cattery maintenance and DIY ensuring your cat's environment whilst boarding is kept in tip top condition.
Phill will be on hand to help with all the necessary cleaning and disinfecting which is an important part of the cattery's day to day running. She will be availble for a little extra 'one on one' time with your cat/s and this will include grooming for all those long haired breeds and extra cuddles and/or playtime for those cats boarding for a long time. Phill will also be providing Keren with back office support and administration.
Pete and Phill are lifelong cat owners: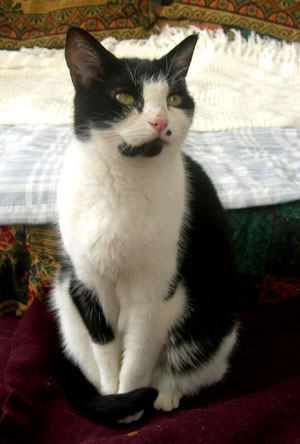 As her namesake Felix is cheeky and cheerful - full of fun and frivolity!
Weíre very sad to say that Ginger passed away early February 2010, aged 17 years.
Originally one of Trevor & Kerenís foster cats - Ginger will be greatly missed by us all.